Description
A perfect gift or reminder to never lose hope.
Trees are often symbols of strength and growth.  Their branches reaching toward heaven, yet rooted in earth, given them a spiritual quality that draws us to them.
These Trees of Hope are covered in pieces of glass and resin that shine and come to life in the light.  The glass pieces are bits I've saved; scraps from projects that still had beauty to offer.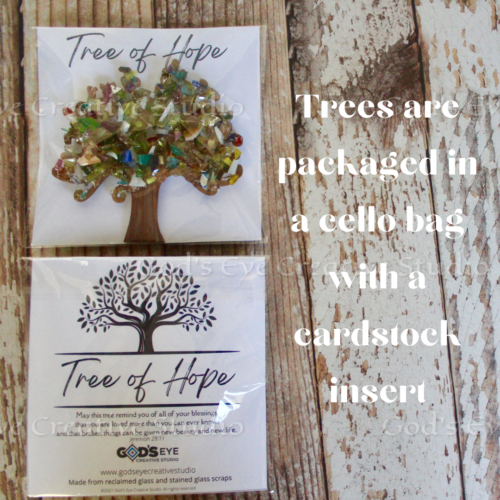 The back of the package insert reads: "May this tree remind you of all your blessings, that you are loved more than you can ever known, and that broken things can be given new beauty and new life."
Each tree has a ribbon hanger.  It could also be propped up on a shelf or against a potted plant or other object.
The trees are built on a 1/16″ wood cutout.  They are hand painted, covered with glass, and then sealed with epoxy resin.  The approximate dimensions of the finished tree are 4 1/2″ x 5″ x 5/8″.