Celebrate your life through the seasons with unique, custom art.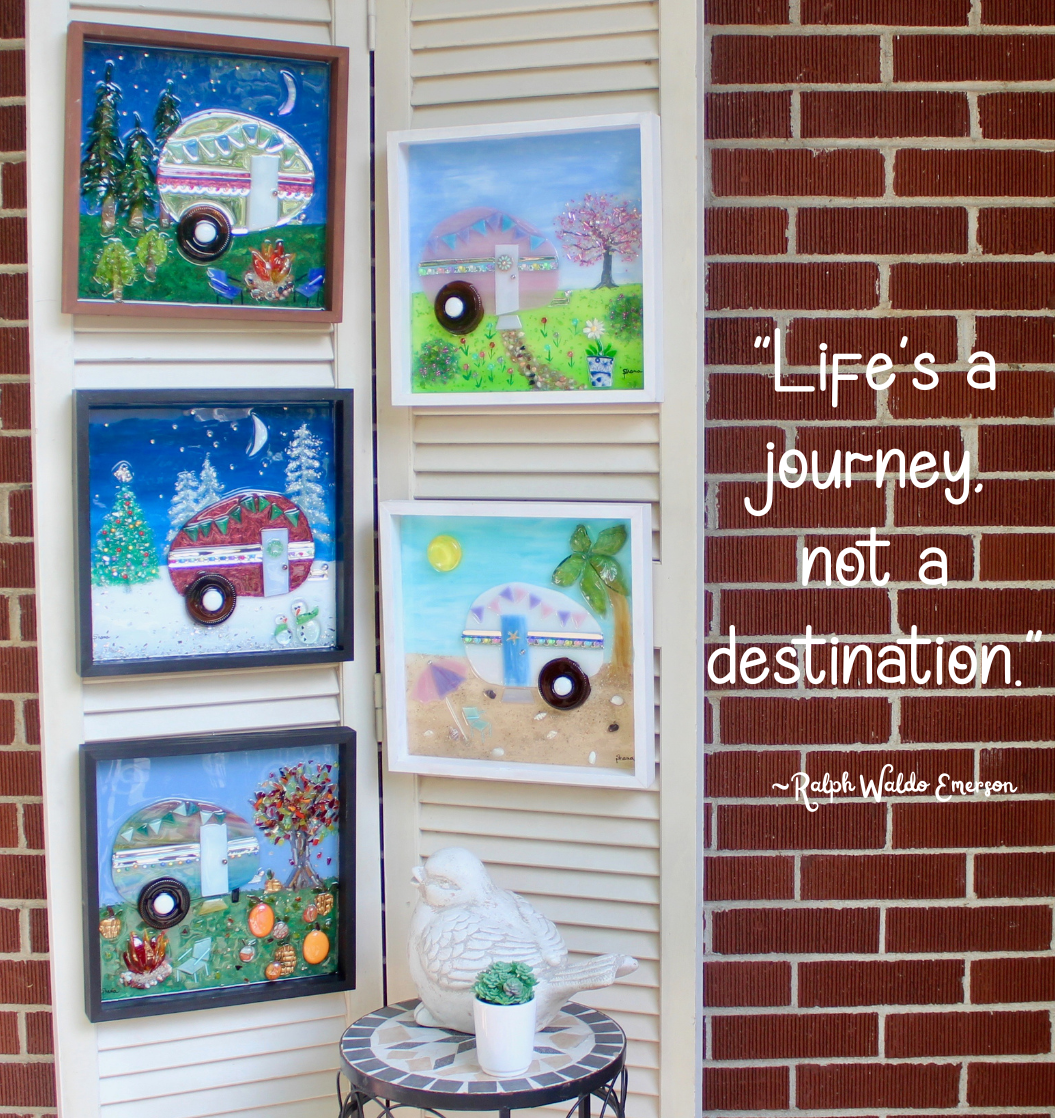 The "Lovin' the Journey" collection offers five different scenes for you to customize.
Campers inspired me to make this collection.  They carry our most essential needs and belongings.  They take us to new places and take us through the seasons.  When I look at this collection, I'm reminded that it's important to move forward and to be still, to plan for the next thing and to be present in this time, and to hold tightly to cherished memories and choose to make new ones.
Travel has long been a metaphor for life.  We go through hills and valleys, walk on easy paths, and climb rocky trails. 
We enjoy the scenery, the sun, the moon, and the stars.
Sometimes we seek a companion  and sometimes we crave solitude.
"Night Journey" features a camper nestled in the forest under the evening sky.  Two chairs around a campfire invite you and and a companion to share some time together.
Choose colors for the camper, banners and chairs.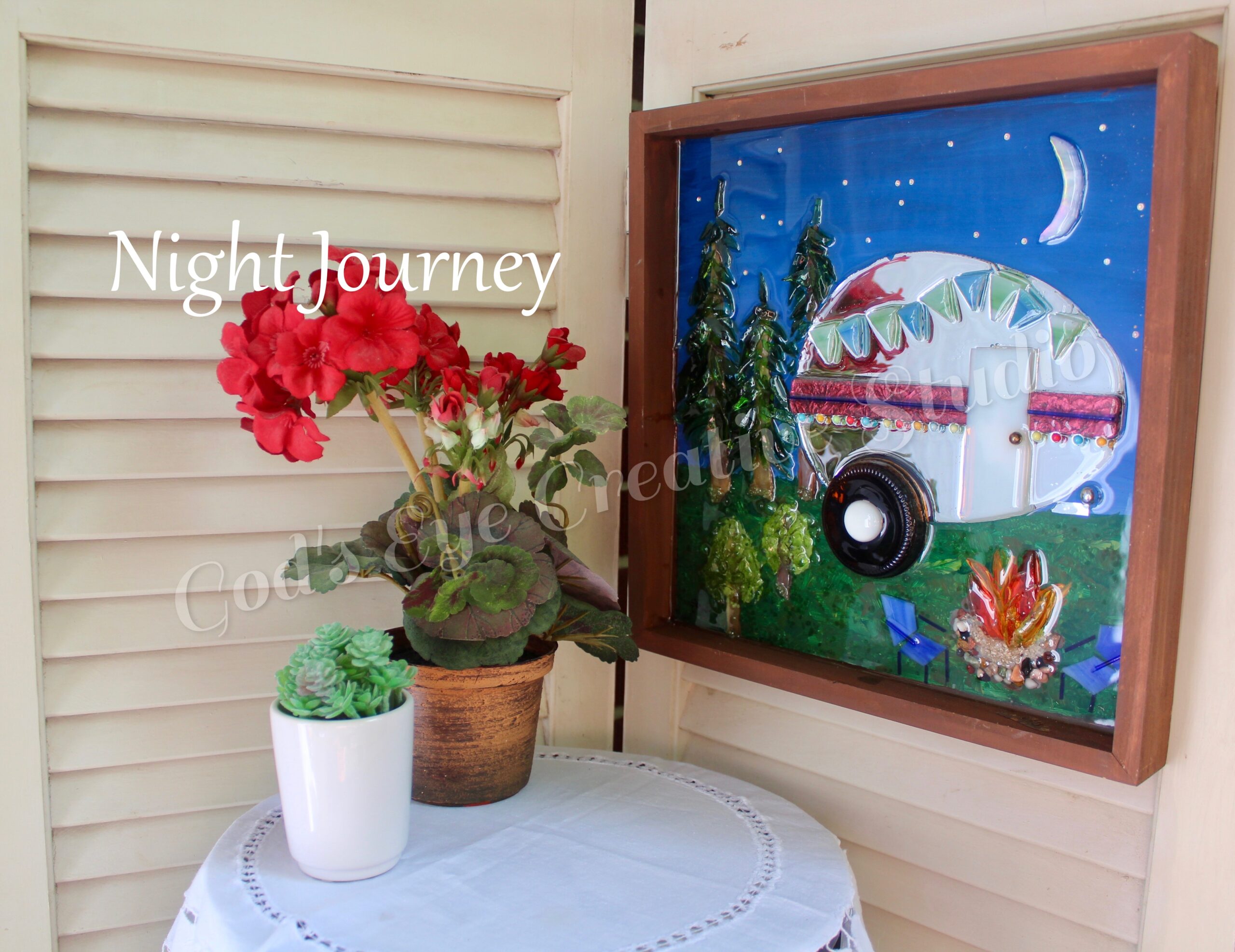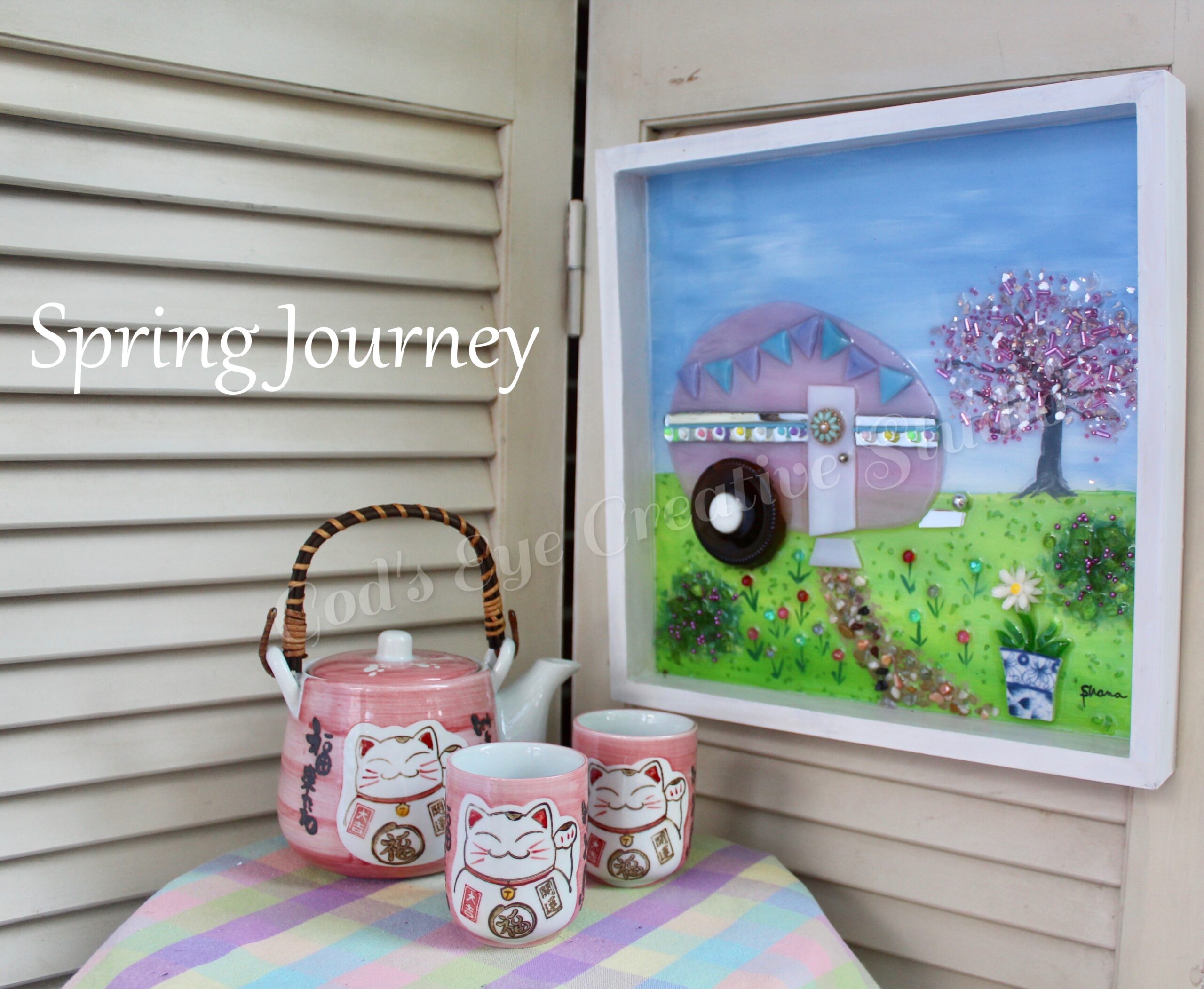 The seasons of the year mark the times of our lives.
We begin again in Spring with her flowering trees and wander through garden paths.
We greet new mornings with fresh hope and promise.
"Spring Journey" features your camper on fresh grass near a flower patch bursting with the first blooms of the year.  A flowering dogwood welcomes the season.
Choose colors for the camper, banner, flowers, and tree.
Summer reminds us of the importance of play, of letting go, and of standing in awe of all that is both powerful and peaceful.
Waves mark the time along with the sun. We leave our footprints in the sand--but just for a little while.
"Beach Journey" portrays your camper beneath a swaying palm tree in the summer sun.  A beach umbrella and chair await you. Real sand and tiny shells are part of this art.
Choose colors for the camper, banner, umbrella and chairs.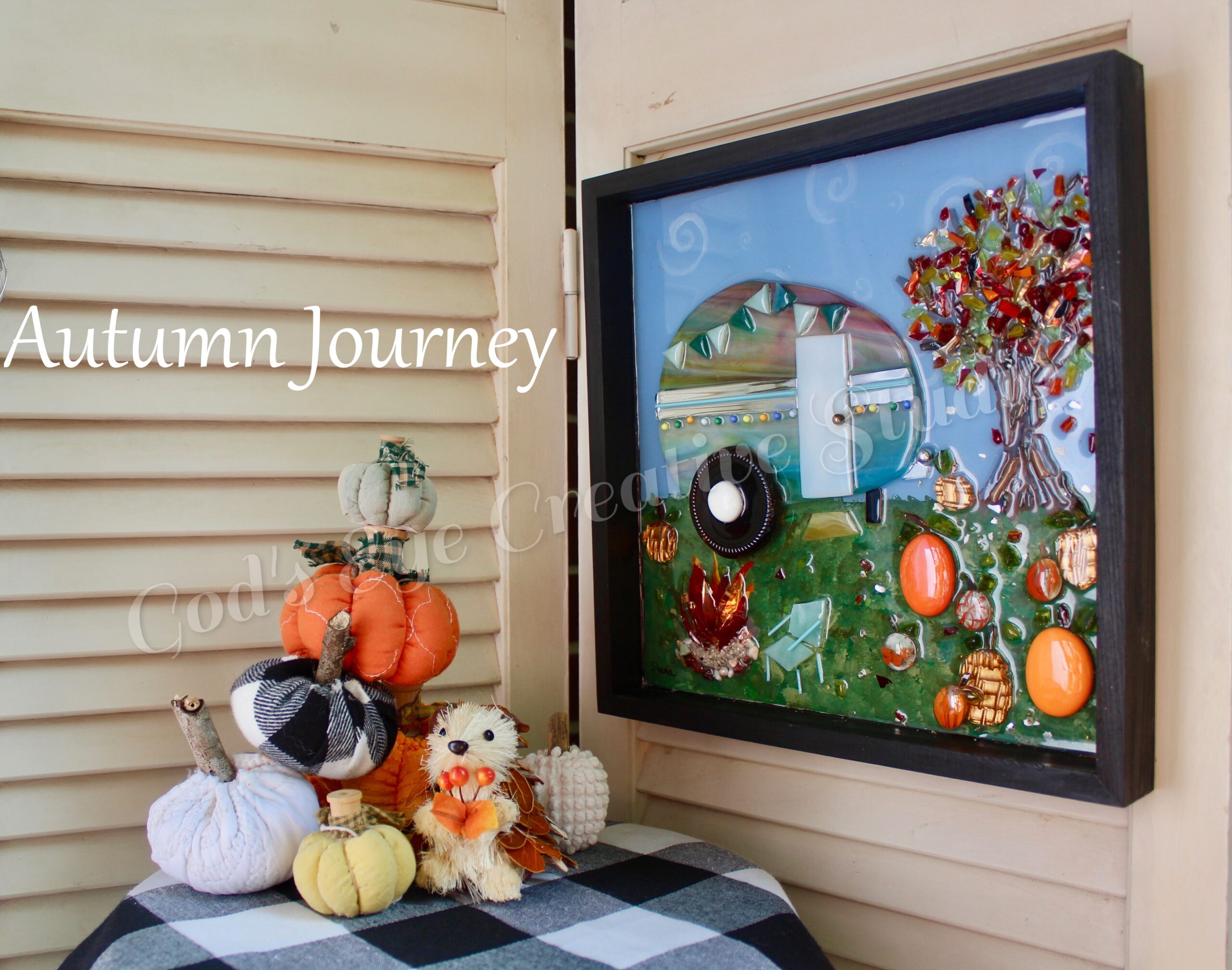 Autumn--a time for transition and harvest.  Breezes turn cooler and the days become shorter, making us take advantage of light and warmth.  Warmth from a fire, and warmth from the glowing colors of yellow, orange. and red.
In "Autumn Journey" your camper has arrived at a pumpkin patch and a lovely Fall tree.  A campfire and chair are waiting for you to enjoy the smell of burning wood and the beauty of this season.
Choose colors for the camper, banner, and chair.
A clear winter sky surrounds your camper, and the moon lights up a friendly pair of snowmen.  A pine tree decorated with lights and a season wreath adorns the door.
Winter's gift is time to gather--gather with friends and family, and to gather our thoughts, memories and dreams for the next year.
The "Winter Journey" in the picture has a Christmas theme to it with the decorated tree, wreath, and red and green color scheme; however, you can customize your Winter scene in any way you want.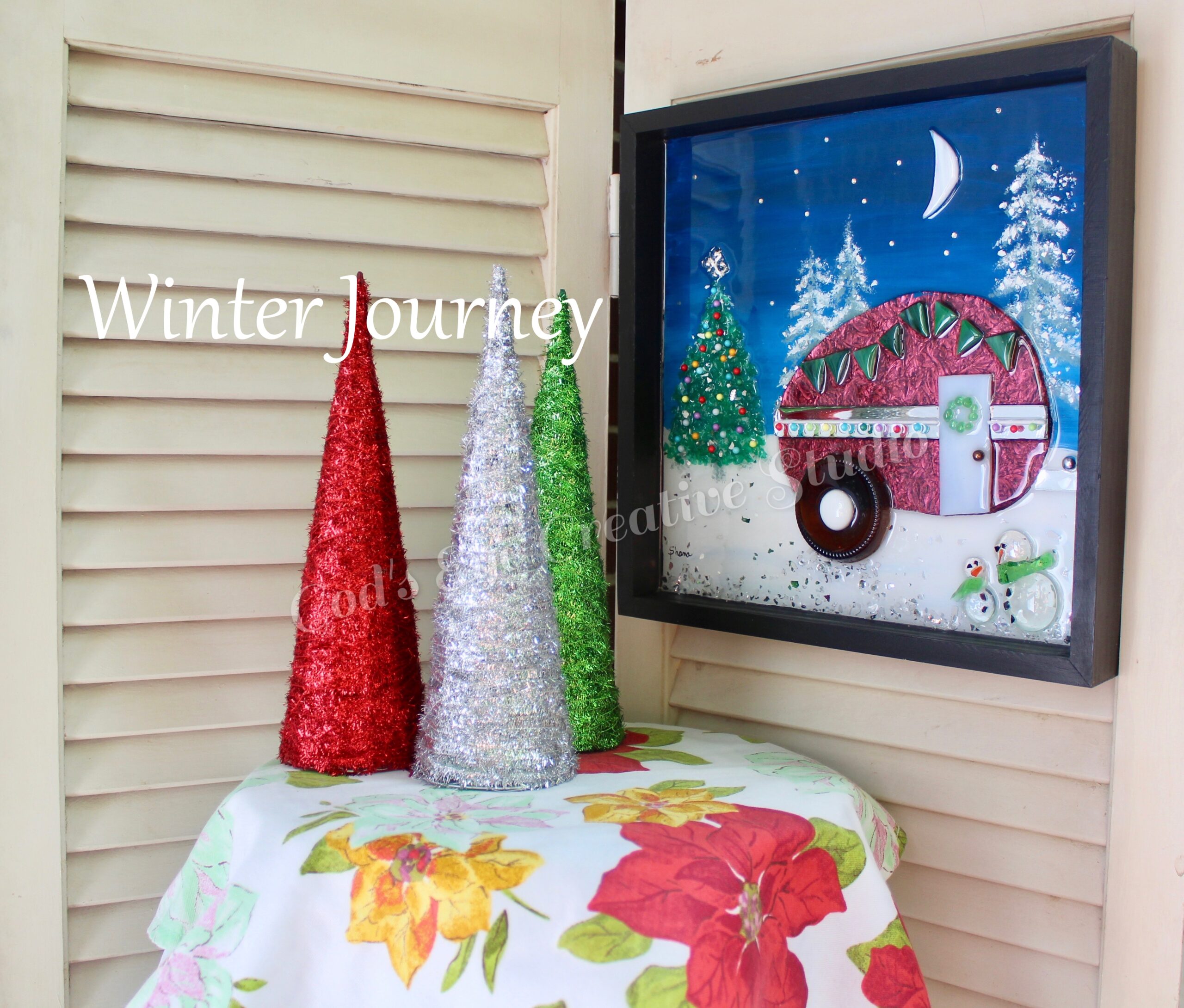 Here are some details about the art in this collection
The size is 12" x 12" x 1 3/8".  It is made on solid wood.
The background for your art is hand-painted to order and I use a sealer on top of the paint to help preserve the clarity of the epoxy resin.  I also seal the back to protect the wood on all sides from moisture.
Your art is made from a variety of materials, mostly glass: stained glass, repurposed glass, crushed glass, glass rods, glass gems, and glass pebbles.  Depending on your scene and what you order, it can also include mirror, beads, rocks, shells, jewelry findings, china pieces, or other items to make your piece beautiful and unique.
I hand pour epoxy resin on your piece.  Resin seals and protects your art, gives it a gorgeous shine and makes the colors rich and deep.
Your art will be signed, dated, and ready to hang.
I write scripture on the back of each piece: "The Lord will watch over your coming and going now and forevermore. Psalm 121:8"  If you prefer, you can indicate on your order form to have this omitted.
Ordering and Payment
Each piece of art in this collection is $125 + tax with free shipping to the contiguous 48 US.  Please contact me for prices to ship to AK, HI or internationally.
Click the button below to complete an order form.
If I am not able to accommodate anything you have requested in your order (e.g., I am out of a particular color of glass), I will contact yu for a substitution or refund within 2 business days of receiving your order.
When you submit the order form you will pay the total amount.
Your art will be shipped (or available for local pick-up) within  3 weeks.
I will notify you via email when your art is ready for pickup, or when it has shipped along with tracking info.
Please see my Shipping and Returns page for more information.
Do you have questions before your order?  
Need your order ASAP?  Ask me!  I'll do my best!
Have an idea for a different scene?  Let's work together to make this piece special!
Want your art personalized in some way?  For example, I can include your name, family name, a location, year, word, or sentiment in your art!
Want a different size?  Tell me what you want, and I'll quote you a price!
Want to incorporate some of your own materials into the art, such as natural objects, rocks, ephmera, jewelry?  Let me know what you're thinking and I'll let you know what I can do!
Contact me and I'll be happy to answer all your questions!!