Description
Additional figures make your Advent Calendar even more fun!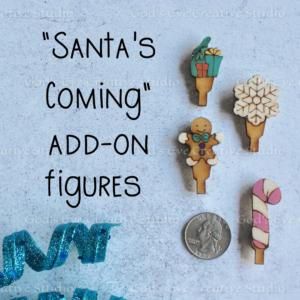 Use more figures in your Santa's Coming Advent calendar to make it more fun and decorative.  Designate one figure to mark the days, and the rest to add more cheer!
Figures for both sets are 1/4″ laser-cut plywood, are hand-painted to match their respective calendar, and covered with epoxy resin.
Four figures are included: Santa's bag, snowflake, gingerbread man, and candy cane.  The quarter is included for size reference.  The tallest of these figures is the candy cane at approximately 1 3/4."
Set: $8
All of the forest animals want to wish you  peaceful Christmas!  This set of five babies includes a bear, long-eared bunny, fox, porcupine, and deer. They are hand-painted and covered with epoxy resin, and laser cut from 1/4″ plywood.
NOTE that the animals in this set are sized smaller than the deer that is included in the "Woodland Christmas" Advent calendar.  The tallest figure in this Add-On set is the baby deer  at approximately 2″.   The deer included with the Woodland Christmas calendar is 2″1/2″.
Set: $10